Garry 10 years!
Sackie in May 2008
Our house!
Walking tour in the mountains in 2007.
Vicky.
Sackie with her puppies at 15 days.
At the top of Trollstigen in Norway, summer 2006.
At the Atlanterhavsveien in Norway during summer of 2006.
Sackie is taking a bath, summer 2006.
Sackie and her friend Spader (Seamist Sheriff Star).
Vicky a day in the autumn of 2005.
Garry
Dewmist Sacharissa is going to have a swim.
Garry at Fårö.
Vicky in Uddevalla.
Sackie on a winterday, 2005
Togheter with Ulrika Zetterfeldt I travelled to the show in Sundsvall in March 2005. We had the following dogs with us, from the left, Vicky, Liza (Dewmist Silverwing) and Caddie (Ch Dewmist Starcadia). Congratulations to Liza who was best bitch with CC, BOB and finally BIS!
Photo of Vicky and myself taken at the show in Sundsvall, March 2005.
Sackie
Garry, summer of 2004.
Sackie, summer of 2004.
Garry with dummy!
Vicky, to the right, together with her kennelmate Dewmist Serenella.
Vicky on New Years Day 2003.
Garry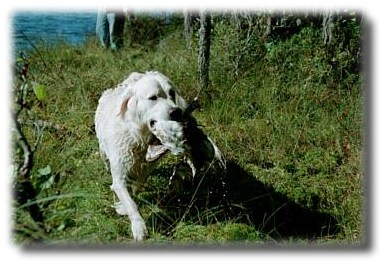 A true bird dog!!!